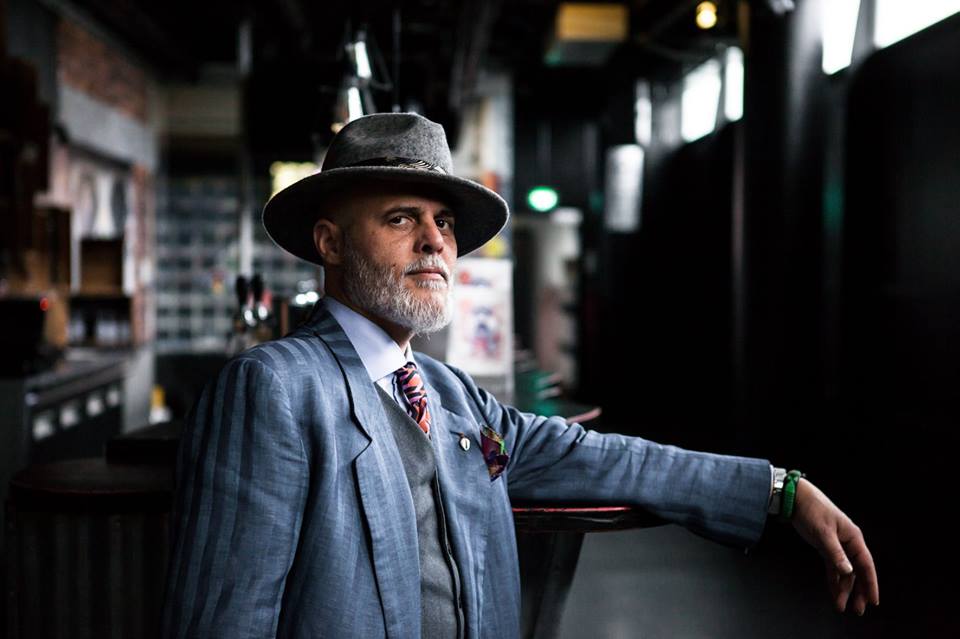 Nya was born in Switzerland in 1970 and spent his childhood and teenage years in Switzerland and the United States.
In 1990, he moved to Lausanne to study political and social sciences at the University of Lausanne.
Having obtained his Master's degree, Nya dedicated a few years to a successful international career in music.
Since 2002, he has been working as a research metadata specialist and has led national infrastructure projects for the preservation and sharing of research data.
Nya has been creating as long as he remembers.
Music
Nya started out with classical training in clarinet because he wanted to learn how to play the saxophone.
In 1981, he discovered Linton Kwesi Johnson, Mutabaruka and Benjamin Zepheniah and fell in love with dub and spoken word. Very open-minded in his musical taste, he listened to everything from Afrika Bambaataa, Run DMC, The Sisters of Mercy, Kraftwerk, Frank Zappa, Aswad and David Sylvian.
In the mid-80s, Nya started to write his own spoken word pieces. He also took the Nazarite vow, let his locks and beard grow, became a vegetarian. Rastafari was the first stepping stone on his spiritual journey.
During a stay in New York, Nya made his first public appearances as an MC at the legendary Giant Step club nights at the Metropolis Café. After relocating to Lausanne, Nya co-founded the hardcore funk rap combo called Real Audio Warfare in 1991. He went on to co-found the hip hop jazz crew Silent Majority in 1992 with jazz pianist and sampling wizard Pierre Audétat and rapper Ndagijé (aka Dynamike). Silent Majority was joined by Marcello Giuliani on bass, Christophe Calpini on drums, DJ Goo and Erik Truffaz on trumpet. The band released 2 albums and an EP between 1993 and 1998 that were at the forefront of the European Hip Hop Jazz scene and played venues in Europe and the US.
From 1997 to 1998, Nya mc'd for the Galaktic Sound Lab once a month at the legendary Blue Note club in London.
He then collaborated with Erik Truffaz on a few tracks for his classic albums « The Dawn » in 1998 and « Bending New Corners » in 1999. Almost an instant success with a new generation of jazz and drum'n'bass aficionados, the Erik Truffaz Quartet feat. Nya toured all over the world from 1998 to 2002.
Nya started making his own beats in 1999 and played his his first concert at the JazzOnze Festival in 2001.
He auto-produced his solo album « Rootz Teknowledgy » in 2010 with music at the crossroads of A Tribe Called Quest, Basic Channel and Pharaoh Sanders. Nya opened up for the Last Poets at the Cully Jazz Festival among others.
He is also featured on tracks by Brink Man Ship, Chlorine Free, Art Bleek, Goo, Mobile In Motion, Simon Spiess Trio, Josef Bilek, Markus Ruchmann, Guillaume Perret and Sknail.
Art
Nya's printing activities started way back in the mid 1980's. Politically involved in the Anti Apartheid movement, he started printing his own t-shirts with political messages and stencils of freedom fighters.
Thirty years later, Nya revived his passion for conscious fashion and couture, launching the Wunderskore label of organic t-shirts and sweatshirts with handprinted linocut designs. As a marketing strategy, he photoshopped his t-shirt designs onto iconic pictures of musicians, actors, artists and anonymous people.
Since 2020, Nya has further developed his linocut techniques and started to increasingly print on paper. He is especially interested in the textures and imperfections offered by this technique, priviledging gritty, raw and distressed prints that make each piece of work absolutely unique.
Fashion

Nya has been into clothing since the mid-80s. He learned knitting and sewing as a teenager wearing his own handmade clothes to the graduation ceremony.
Nowadays, Nya wears almost exclusively second-hand clothes, shoes and hats that were made to last by artisans and small companies. In order to promote a more eco-friendly approach to fashion, he is currently curating neeedl.net, a global online ecosystem of independently run brands and physical stores.